Posted on Saturday, 5 October 2019 in Flavors and Gastronomy
A stroll through the must-see Parisian markets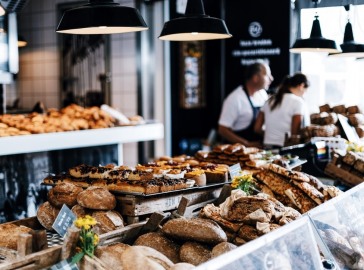 To discover the capital in depth, there's nothing like strolling around like a true Parisian! If you're looking for an authentic experience, come and walk through the Parisian markets. From the Aligre to the Enfants Rouges and the Batignolles, each has its unique ambiance and specialties.
The essential Parisian market; the Marché d'Aligre
Very close to the Ledru-Rollin Metro station in the 12th arrondissement, the Marché d'Aligre is a special place for all lovers of the markets of Paris. A little expensive but still superb, it offers an excellent choice of fresh fruits and vegetables. And, when your shopping basket is full, one of the pretty terraces of the Place d'Aligre will welcome you for some well-deserved post-shopping relaxation accompanied by a coffee and a tasty treat.
Good deals at the Marché de Belleville!
Resolutely cosmopolitan, the Marché de Belleville brings together Arabic, Jewish and Chinese culture in a unique and particularly convivial atmosphere. It has a well-deserved reputation for stocking items that you might be hard-pressed to find elsewhere, and it's also one of the cheapest markets in Paris. But to be sure of amazing bargains, try waiting until the last minute when the stallholders sell off their produce at knock-down prices.
Organic fruits and vegetables from the Marché des Batignolles
Are you a fan of healthy and well-balanced home cooking? The famous Batignolles covered market is the preferred place of purchase for Parisians looking for fresh, organic and local produce. While browsing among the generous displays of fruit and vegetables sourced from producers with impeccable pedigrees, you'll be tempted to taste the breads made from ancient grain flour and the artisan wines offered by the merchants. The market also boasts various stalls providing an international array of tasty delights to take away
A village vibe at the Marché de Saxe-Breteuil
Situated on the Avenue de Saxe, in the 7th arrondissement of Paris, the large Saxe-Breteuil market is distinguished by a pleasant atmosphere evocative of village life as well as the high quality of the produce on offer. Fish, poultry, vegetables, tasty mushrooms, fresh herbs and, of course, many seasonal items can be found among its many displays to the delight of your taste buds. A bonus of shopping here is the excellent view of the Eiffel Tower.
A friendly lunch at the Marché des Enfants Rouges
Located in the heart of the Marais district, next to the Arts et Métiers Metro station, the Marché des Enfants Rouges is the oldest market in Paris. Cheerful and colourful, it's also a popular meeting place. Ideal for a good lunch in the heart of the capital, amidst a lively but friendly atmosphere, this bustling and vibrant market will gladly welcome you to share one of its tables. Various stands offer cuisine from around the world. Anyone for Creole boudin or Maghreb pastilla?
******
More information:
- Marché d'Aligre
- Marché de Belleville
- Marché des Enfants Rouges
- Marché de Batignolles
- Marché de Saxe Breteuil
---
Hotel Sophie Germain, a 3-star hotel in the heart of Paris 15th
Back to articles