Posted on Wednesday, 5 December 2018 in Visit Paris
Browsing the Parisian Christmas markets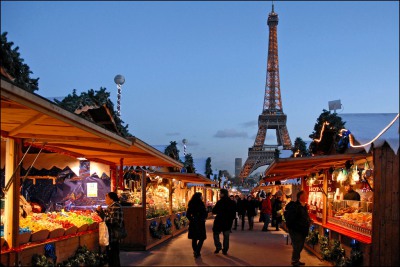 To immerse yourself in the warm and wonderful atmosphere of Christmas, there's nothing like getting together with friends or family for a tour of Christmas markets. In Paris, they are scattered throughout the city and each one has its own special character, promising memorable moments. Enjoy a glass of mulled wine and nibble on spicy gingerbread cookies as you browse the capital's most beautiful Christmas markets this winter.
Saint Germain des Prés; the chic market
It stands on the forecourt of the Church of Saint Germain des Prés, and if it's not huge, it is definitely chic and pleasantly welcoming. Commercial premises in the district - think designer shops and very upscale caterers - help to give this beautiful Christmas village on the Left Bank its particular vibrancy.
Gare de l'Est; the traditional market
The Christmas market that springs up in the square of the Gare de l'Est is one of the purest traditions of its kind, inspired directly by those of the Alsace region. Stroll among the small wooden booths and discover succulent flavours based on gingerbread, fine honey, cinnamon wine and, of course, good French fries.
The Abbesses; the creative market
This Christmas market is held in the picturesque Place des Abbesses, on the flank of the hill of Montmartre, in the 18th arrondissement. Reflecting the local population, this market offers, in addition to traditional delicacies to savour, decorative objects, jewellery and other handcrafted items. It's ideal for finding small unique gifts for your loved ones in a last-minute Christmas shopping spree.
Fééries d'Auteuil; the maxi market
More than a Christmas market, the Fééries d'Auteuil, in the 16th arrondissement, is an annual Yuletide celebration where you can search for and find treasures. This huge festive event offers a great way to get into the Christmas spirit, with its convivial ambiance, displays of handcrafted nativity scenes and its choir. You will also find a flea market and craftsmen from all regions of France.
Eiffel on Ice; the Christmas village
On the Champ de Mars, at the foot of the majestic Eiffel Tower, the Eiffel on Ice Christmas village gives pride of place to crafts and flavours from all over Europe. More than a hundred wooden booths await your festive and seasonal shopping spree, offering gourmet local products, decorative objects from the traditions of all European countries, and many other surprises. Then, after all the excitement, you can return to the comfort and serenity of your room at the Hotel Sophie Germain, located in the 14th arrondissement on the Left Bank. The warm spirit and appealing decor of the establishment will make you feel immediately at home during you stay in the heart of the capital.
******
For more information :
- Marché de Saint Germain des Prés
- Marché de Gare de l'Est
- Marché des Abesses
- Marché des Féeries d'Auteuil
---
Hotel Sophie Germain, a 3-star hotel in the heart of Paris 15th
Back to articles