Posted on Monday, 5 November 2018 in Entertainment
Celebrate the Christmas season with an evening in a Parisian cabaret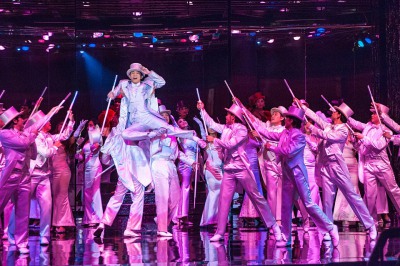 As winter bites, how would you like to raise the temperature? A fun way to do so is by spending a fun-filled evening in a Parisian cabaret during the festive season! Sequins galore, feathered costumes, superb dancers and great music in a colourful setting will warm your heart for the holidays. The Lido, Moulin Rouge and Crazy Horse each have their own special atmosphere. Welcome to the legendary Parisian nights!
Lido; the enchanting cabaret on the Champs-Élysées
Located on the most beautiful avenue in the world, the Champs-Élysées, the Lido invites you to enjoy sensual evenings to the rhythm of fabulous revues. Launch yourself through the venue's distinctive entrance and land on the planet of the Bluebell Girls, the world-famous cabaret dancer troupe known for their exacting standards - the dancers are all at least 1.75 metres in height. Singers and other entertainers perform between the dances.
Moulin Rouge; raffish spirit at the foot of Montmartre
The renowned Moulin Rouge stands in the naughty but nice district of Pigalle, at the foot of the hill of Montmartre. Its illuminated red windmill with its sparkling sails is a symbol of the district, and this prestigious venue continues to represent, as it has done throughout its history, the intimate link between the arts and the world of the night. Toulouse-Lautrec loved to visit the Moulin Rouge in his day, and the iconic singer Mistinguett performed here. Today, the Moulin Rouge is still thrilling, and offers spectacular revues in which talented dancers delight with their grace and magnificent costumes.
Crazy Horse, eroticism and aesthetics
In the heart of the 8th arrondissement, on the avenue Georges V, you can find the Crazy Horse cabaret. The Crazy Horse dancers are distinguished by their straight and long bangs, a hairstyle that they have made into a symbol of eroticism. They also sport huge false eyelashes and vertiginous heels. The Crazy Horse revues have the dancers naked, but the clever lighting and breathtaking scenography both hides and reveals in a tasteful way. Fashion designers, especially those specialising in lingerie, have often collaborated with the Crazy Horse, including names such as Chantal Thomass and the Aubade brand. Surrender to the spectacle of the dazzling beauty of the dancers and their exquisite choreography.
Your stay at the Hotel Sophie Germain
For your stay in Paris during the festive season, book your room at the Hotel Sophie Germain, located in the 14th arrondissement, on the Left Bank. Between the Place Denfert-Rochereau, the Rue Daguerre and its exceptional market and the Montparnasse railway station, the Hotel Sophie Germain offers three-star accommodation and lovely decor. Enjoy its soothing atmosphere alone, as a couple, with friends or with your family.
******
For more information :
- Lido de Paris
- Moulin Rouge
- Crazy Horse
---
Hotel Sophie Germain, a 3-star hotel in the heart of Paris 15th
Back to articles