Posted on Wednesday, 19 November 2014 in Hotel
Sparkling offers for Christmas in Paris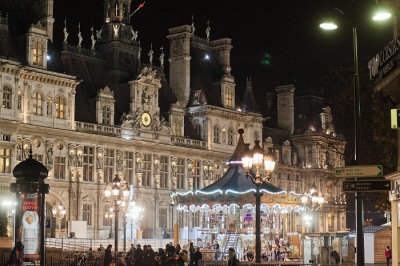 Christmas in Paris is incomparable, and the capital is at its sparkling best at this wonderful time of year. The 'city of light' lives up to its name with thousands of fairy lights and dazzling decorations adorning the 200 plane trees on the Champs-Elysees. Delightful Christmas markets and the amazing animated window displays in famous department stores appeal to all ages, and there has never been a better time to book a stay at Hotel Sophie Germain. Let yourself be tempted by our very attractive Christmas rates and experience all the wonder of the festive season in one of the world's most beautiful cities.
Our exclusive offer is a real Christmas treat, and is available for any stay between December 19th and December 28th. Book a Double Room and pay just 99 € per night instead of our normal public rate of 250 €. Perhaps you're travelling alone or require an extra room for a teenager, friend or family member. No problem, we are delighted to offer Single rooms for just 89€ per night instead of 230 € over the same period. Breakfast is included in this delicious deal, so book online now and plan your exciting Christmas in Paris adventure with Hotel Sophie Germain.
Make the most of our exclusive deal to discover Christmas in Paris
There is so much to see in Paris this Christmas, and at Hotel Sophie Germain you are ideally placed for really making the most of your time in the city.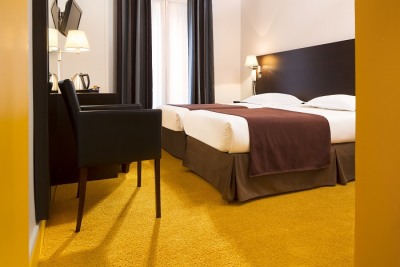 Our elegant location near Saint-Germain-des-Pres allows you easy access to the wonderful Christmas markets at Saint-Germain-des-Pres, Montparnasse and Champs-Elysees. The tradition began in the Alsace region of France and you'll be transported back to childhood as the scent of mulled wine and gingerbread fills the air.
Browse for Christmas gifts or decorations for your home and table at Santa's Village Saint-Germain-des-Pres from November 15th 2014 till January 6th 2015. From December 4th till 31st, Montparnasse Christmas Market is also within easy reach of the hotel. It specialises in regional French foods and delicacies, so be sure to pick up treats to enjoy over the festive season. The wooden chalets that line the Champs-Elysees are filled with Christmas goodies, and you will be able to enjoy the magical illuminations as you shop.
Don't miss the thrilling window displays at the city's top department stores in Boulevard Haussmann. Kids will adore the fun monster that has taken over Galeries Lafayette, while the enchanting tale of a little boy's Christmas Eve journey is beautifully realised by Burberry in the windows of Printemps.
******
• Montparnasse Christmas Village: December 4-31, 2014
Place Raoul-Dautry, Paris 15e
Metro : Montparnasse Bienvenüe, lines 4,6,12,13
• Christmas Village at St-Germain des Prés : from December 6, 2014 to January 2, 2015
Place Saint-Germain-des-Prés, Paris 6e
Metro : Saint-Germain-des-Prés, line 4
• Champs Elysées Christmas Village : November 14 - January 4,
Avenue des Champs-Elysées, Paris 8e
From Rond-point des Champs-Elysées to Place de la Concorde
Metro : Franklin D. Roosevelt, lines 1,9 - Concorde, lines 1,8,12
• Le Bon Marché, 24 Rue de Sèvres, Paris 7e
Tel. 0033 (0)1 01 44 39 80 00
Metro : Sèvres - Babylone, lines 10,12
• Printemps : 64 boulevard Haussmann, Paris 9e
Metro Havre Caumartin, lines 3,9
• Galeries Lafayette : 40 boulevard Haussmann, Paris 8e
Metro : Chaussée d'Antin Lafayette, lines 7,9
• Christmas illuminations : november 20 - janvier 8
Avenue des Champs-Elysées, Paris 8e
Metro : Charles de Gaulle Etoile, lines 1,2,6 - Georges V, line 1 - Franklin D. Roosevelt, lines 1,9 - Concorde, lines 1,8,12
Featured picture copyright holder : Tourist Office Paris - Photographer Daniel Thierry
~oOo~
Hôtel Sophie Germain, hôtel de charme 3* Paris Rive Gauche
Back to articles