Posted on Wednesday, 10 April 2019 in Exhibitions and Museums
Denfert-Rochereau and the current exhibition at the Cartier Foundation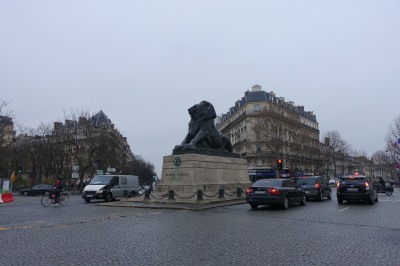 The Hotel Sophie Germain is located near the Place Denfert-Rochereau, a public square centred around the famous Lion of Belfort statue. We are also just a 10-minute walk from the Cartier Foundation for Contemporary Art. We warmly recommend a visit to this superb art museum which, until mid-June, is featuring an exhibition on young European artists. In fact, you'll find many beautiful places of undeniable cultural and historical interest in this lesser-known and lively Parisian quarter.
Little-known yet culturally rich; the Place Denfert-Rochereau
The Denfert-Rochereau quarter is not generally considered one of the popular areas for tourists in Paris but this does it something of a disservice, as plenty of monuments, art galleries and other places of interest await you here. In the Place Denfert-Rochereau, formerly known as the Place Denfert, stands the impressive Lion of Belfort, a copper-plated sculpture erected in tribute to the French garrison that bravely defended the besieged city of Belfort during the 1870 Franco-Prussian War. This majestic work faithfully reproduces in one-third scale the monumental red sandstone statue by Frédéric Auguste Bartholdi carved into the rock cliff of the Citadelle Belfortaine.
From the Place Denfert-Rochereau you can make a descent into the incredible underworld of Paris. The square houses the entrance to the city's famous catacombs, to which the remains of six million people were moved from the capital's overflowing cemeteries in the late 18th century. These are arranged in 1.7 km of labyrinthine galleries. Close to the square is the Paris Observatory, a public institution dedicated to researching various areas of contemporary astronomy and astrophysics.
The Cartier Foundation for Contemporary Art presents the exhibition Young artists in Europe; the Metamorphoses
If you like contemporary art, you should not miss the opportunity to visit the Fondation Cartier, where you can find various exhibitions featuring works by French and international artists, including famous names and rising stars of the art world. Constructed in 1994, the building housing this superb art museum is a symphony in glass designed by the architect Jean Nouvel that emphasises a sense of airiness and openness. This multidisciplinary foundation, a fine example of corporate philanthropy, was created to raise public awareness of contemporary art and make it open and accessible to all. Eclectic and innovative, it embraces all styles, genres, disciplines and themes, including design, photography, fashion, painting, video and performance art.
From April 4th to June 16th, 2019, the Fondation Cartier continues to fulfil its wide-ranging brief with an exciting exhibition entitled Young Artists in Europe; The Metamorphoses. This brings together about twenty artists from 16 European countries who express themselves through painting, sculpture, fashion, design or the cinematic arts. The exhibition gives free expression to a new generation of creators in all artistic fields, who embody the face of the Europe of today and tomorrow.
261 Boulevard Raspail, 75014 Paris
******
More information:
- Exhibition : Fondation Cartier
Photo credit : Guilhem VELLUT // Licence
---
Hotel Sophie Germain, a 3-star hotel in the heart of Paris 15th
Back to articles