Posted on Monday, 5 March 2018 in Events
The Eiffel Tower Vertical and Paris Marathon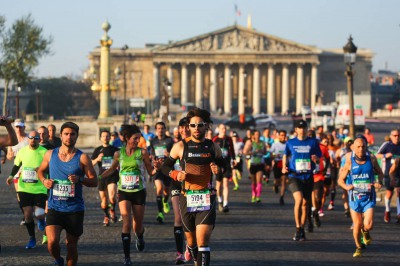 Athletes and sports fans who like to travel, rejoice! March and April in Paris bring two great events that allow you to combine your passions! The capital offers a pair of challenges that push participants to the limit of endurance; the Eiffel Tower Vertical and the famous Paris Marathon.
The one and only Eiffel Tower Vertical
World-famous and beautiful, it sits in the heart of Paris and is an integral part of the personality of the city. The Eiffel Tower is a must visit, and its elegance is breathtaking both by day and at night, when the monument is wreathed in a thousand lights. The Eiffel Tower Vertical is a unique sporting event; a race to the top of the famous iron tower via its hundreds of steps! It's the ultimate workout for your cardiovascular system, while the beauty of the panoramic view of the city will amaze you. In fact, the 2nd and 3rd floors of the iconic Iron Lady, normally closed to the public, are accessible to the competitors in this race. Register now for the 4th edition of this exceptional sporting event, which will take place on March 15th, 2018.
Paris Marathon, the ultimate race
On April 8th, 2018, head to the starting line for the 42nd Paris Marathon! An electric atmosphere takes hold of the capital, all along the route. Runners will have the thrill of testing their skill and endurance on the streets of the most beautiful city in the world, including the Avenue Foch, Rue de Rivoli and, of course, the Champs-Élysées. The spectators can enjoy the pleasure of supporting all the runners amidst a friendly atmosphere filled with bands, confetti, food stands and more. Whether you are participating yourself or will be there to cheer on the competitors, the Paris Marathon is a city-wide celebration!
The Hotel Sophie Germain, your oasis of tranquillity
The Hotel Sophie Germain welcomes spectators and participants alike and offers, especially for the occasion, a late check-out on Sunday, April 8th! Located in the bohemian and quiet district of the 14th arrondissement, on the Left Bank, the Hotel Sophie Germain combines a relaxed lifestyle with a cutting-edge contemporary aesthetic. Situated close to the Place Denfert-Rochereau, and conveniently linked to the city's airports by the RER and a shuttle bus, our comfortable establishment will be your haven, allowing you to get ready for the marathon. A refreshingly peaceful sleep and a breakfast of champions await you! The rooms are large, bright, well-appointed and perfect for a trouble-free stay. The many public transport options in the vicinity of the hotel will help to make your time with us as convenient as possible. Choose the Hotel Sophie Germain for a sports-oriented Parisian break!
Photo credit : official website of the event
Back to articles