Posted on Tuesday, 10 April 2018 in Fairs and Trade Shows
This spring, don't miss the Foire de Paris 2018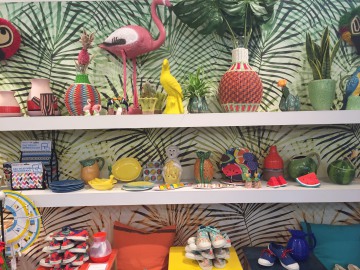 From April 27th to May 8th, the Foire de Paris (Paris Fair) returns to the Porte de Versailles exhibition centre! During your stay at the Hotel Sophie Germain, you mustn't miss the opportunity to discover this huge event that was first held over a century ago. Europe's largest retail fair is bursting with home décor, crafts, gastronomy, fashion and more.
Foire de Paris; more than 100 years of history
The first Foire de Paris took place in 1904. The event was originally created to follow the famous Exposition Universelle de Paris of 1900, which was a phenomenal success. Since that time, the goal of the Foire de Paris has been to share with the general public the latest innovations in home décor, lifestyle, wellness, fashions, hobbies and more, as well as shine a spotlight on cultures from around the world and provide a showcase for the best in wine and food products. Today it is regarded as the largest general-purpose trade fair in Europe.
Foire de Paris; a continually evolving success
The Foire de Paris is a major attraction, drawing thousands of visitors, including many from outside France, to browse the stands of the exhibitors, participate in the various activities on offer, and find out all about the latest trends. To help you find the things that interest you most, the fair is divided into specific sectors. These are home and lifestyle; wine and gastronomy; arts, crafts and culture of the world; wellness, fashion and accessories; and leisure and everyday life. You can find a wealth of ideas to enrich your life and those of your loved ones. In addition to the exhibitors, the Foire de Paris offers various activities and entertainment, including workshops, shows, and competitions to reward innovation and invention. Visit the Foire de Paris with your family and enjoy an experience rich in discoveries and fun.
The Hotel Sophie Germain, your Parisian haven on the Left Bank
The Hotel Sophie Germain welcomes you for your stay in Paris, whether you're travelling alone, with your partner, with friends or family. We are conveniently located on the Left Bank of the Seine, in the 14th arrondissement, near the Place Denfert-Rochereau and the Gare Montparnasse transport hub. Well connected to all types of public transport, our enviable geographical position allows you to reach with ease and speed all locations in the capital, including the Porte de Versailles exhibition centre, which is a quarter of an hour away by Metro or bus. Our rooms are comfortable, spacious and quiet, and will be your welcoming refuge after intense days spent enjoying the energy and excitement of the capital. We offer a range of services to make your trip go smoothly, such as taxi or restaurant bookings, and the loan of tablets or computers.
Back to articles