Posted on Monday, 10 June 2019 in Flavors and Gastronomy
Good to know this summer; our selection of the best ice cream parlours in Paris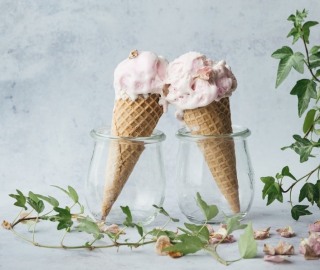 Summer is here and it's getting hot. Want to cool off? The delicious solution to your problem is ice cream. With that in mind, the Hotel Sophie Germain offers its selection of the best ice cream parlours in Paris.
Amorino; the flower of ice cream
This glacier has been well-established for several years in various parts of the capital and deserves to be nicknamed 'the flower of ice cream'. Its shops offer homemade ice cream with seasonal fruit, without artificial colouring, presented in the form of flowers. You'll be sorely tempted by the imported Italian recipes from this 100% French glacier. The multitude of flavours on offer gives you the opportunity to compose your own ice cream with a different flavour per petal.
Glazed; let's rock!
This shop located at 54 Rue des Martyrs, a stone's throw from Pigalle, has made quite a name for itself in the world of ice cream! Its daring, offbeat flavours and intense colours served in a shop with black walls and anthracite tiles are simply unforgettable. Must-haves share the limelight with many original and offbeat creations.
La Glacerie Paris
Located at the edge of the Marais, close to the BHV department store, La Glacerie is the second shop opened by the Best Artisan in France award winner David Wesmael, whose other establishment is in Lille. Twenty authentic flavours presented in cleverly designed tubes let you slice the ice and mix as you wish.
II Gelato Del Marchese; refined flavours in elegant surroundings
This exceptional glacier and tearoom at 3 Rue des Quatre Vents in the 6th arrondissement plays the high-quality luxury artisan gelateria card. The Italian decor with its refined details serves as a backdrop for incredible Italian ice cream creations. Served in homemade cornets, these sweet and savoury ices explode in the mouth and transport you to Naples, Florence or a lost corner of Sicily.
Berthillon; a true family affair
Berthillon is the artisan glacier that has been established in the heart of the Ile Saint-Louis since 1954 and the business remains a true family affair. After a scorching day of exploring the island, don't miss the chance to stop at this much-loved ice cream parlour whose fine flavours made with natural ingredients has attracted connoisseurs for over 60 years.
Journey to the land of frosty flavours at La Bac à Glaces
Sylvain Yoël is waiting for you in his shop, La Bac à Glaces, where you can savour great creamy classics, freshly churned. How can you resist traditional creations such as the Belle Vanille, glittering strawberry, fruity mango, exotic Creole rum and raisin or crunchy prune and hazelnut? Or will you opt for more unusual flavours such as eau-de-vie, liquorice or gingerbread ...
Book your summer stay at the Hotel Sophie Germain and discover at your leisure the most unusual glaciers in Paris.
******
More information:
- Amorino
- Glazed
- La Glacerie Paris
- II Gelato Del Marchese
- Berthillon
- Bac à Glace
---
Hotel Sophie Germain, a 3-star hotel in the heart of Paris 15th
Back to articles