Posted on Tuesday, 10 March 2015 in Entertainment
Cité de la Musique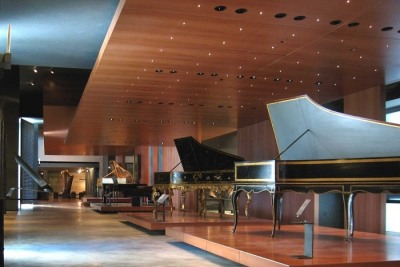 Cité de la Musique is one of the most exciting and interesting places to explore music in Paris, and is within easy reach of Hotel Sophie Germain by metro or taxi. This landmark venue is close to the Paris Conservatory and Park Villette, and has recently changed its name to Philharmonie de Paris to mark a new phase in its development.
Cité de la Musique will continue to host the type of prestigious events that have made it one of the city's most popular venues, so why not plan a visit during your next break at Hotel Sophie Germain? Take a look at the permanent exhibit of over 1,000 classic musical instruments, or attend one of the two annual temporary exhibitions that highlight different genres. An eclectic programme of concerts and events aims to satisfy a vast range of musical tastes, so you're sure to find several that appeal to you.
Cité de la Musique – a unique space in the heart of Paris
Cité de la Musique, or Philharmonie de Paris, is known not only for its dedication to music in Paris, but for its magnificent architecture. The building was created by Jean Nouvel and architect Christian de Portzamparc, and is an impressive example of contemporary cubism. The venue boasts an amphitheatre concert hall that is revered for its excellent acoustics, and the space can seat an audience of 800 to 1,000.
Exhibitions and shows at Philharmonie de Paris
Philharmonie de Paris never ceases to amaze its visitors, and shows and events of the highest calibre are a regular occurrence. Take a look at some of the thrilling exhibits and recitals planned for this spring, or simply explore the museum and building.
One of the highlights of the year is sure to be a weekend dedicated to iconic performer and singer, David Bowie from 6th to 8th March 2015. A selection of David Bowie themed shows including a fabulous exhibition entitled 'David Bowie is...' and a retrospective of the artist's Ziggy Stardust persona presented by Renaud Cojo are just some of the exciting features you can see.
Plan a weekend of music in Paris, or simply enjoy a special evening Perhaps you're a dance enthusiast. Let's Dance takes place on the weekend of 13th to 15th March in the Great Hall, and a score that covers baroque minimalism, classics such as Stravinsky, hip-hop and jazz will appeal to every age group.
Classical fans will be in their element at the Vienna and Berlin weekend from 18th to 19th April, while other highlights such as the Orchestre de Paris presentation of 'Jeanne d'Arc au bûcher' with Marion Cotillard from 4th to 5th March 2015 promise to be magical and unforgettable.
The elegant ambience of Hotel Sophie Germain is the perfect complement to your visit to Philharmonie de Paris, whether for a weekend event or an enjoyable day or evening outing.
******
• Cité de la musique - Paris Philharmonic society
By subway : line 5, direction Bobigny – Pablo Picasso, station Porte de Pantin.
By bus : lines 75, 151 - Noctilien N13 et N41.
By car : underground car park Cité de la musique.
Tramway : T3B stop Porte de Pantin.
Stations vélib' : opposite Café de la musique, Conservatoire and Porte de Pantin, Website.
Stations Autolib'.
Car park with access for the disabled - 5 places : 8 rue Adolphe Mille – 9 Rue des Sept Arpents – 159 Rue Manin.
Picture Music museum Paris copyright holder: By Pline, France [CC BY 2.0], via Wikimedia Commons
---
Hotel Sophie Germain, a charming 3* hotel on the left bank of Paris
Back to articles