Posted on Thursday, 27 November 2014 in Entertainment
An evening at the legendary Paradis Latin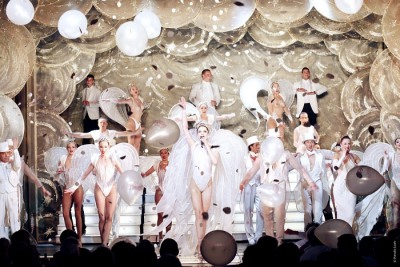 During any festive season stay at Hotel Sophie Germain you are certain to want to take in some of the Left Bank's exceptional nightlife and entertainment. Paradis Latin is one of the most famous cabaret venues in Paris, and can be reached by taxi from the hotel in less than 15 minutes.
Legendary Parisian venue Paradis Latin has all the ingredients to ensure a truly special evening and you can choose from a champagne review or a dinner show. Enjoy traditional favourites like the can-can as you follow in the footsteps of some of the most famous names in the history of the city.
The tale of an extraordinary cabaret club
Napoleon Bonaparte established his Latin Theatre at 28, rue du Cardinal Lemoine in 1803, and Paradis Latin still stands on the same site today. Rebuilt by Gustave Eiffel for the Paris Expo of 1889 this magnificent structure has all the romance and glamour of a bygone era. As you step into the sumptuous theatre with its red and gold décor, its sparkling chandeliers and fabulous posters from previous shows, you're entering a world that perfectly encapsulates all the drama and romance of the Latin Quarter.
As well as the famous can-can routine, the show is a glittering production of outstanding choreography, amazing costumes adorned with sequins and feathers, acrobats and musicians. Make a visit to Paradis Latin one of the highlights of your Christmas stay at Hotel Sophie Germain.
Paradis Latin is a stylish evening treat after you've spent the day shopping in traditional Christmas markets or top department stores, and with our exclusive Christmas offers here at Hotel Sophie Germain you're guaranteed to have the best ever Christmas in Paris.
Sparkling offers for Christmas in Paris
Christmas is one of the best times to visit Paris, and our exciting offer makes it even more tempting. Enjoy exceptional rates on rooms at Hotel Sophie Germain for stays between 19th and 28th December 2014 and take in all the festive sights and attractions of the city. Visit traditional markets at Saint-Germain-des-Pres, Montparnasse and Champs-Elysees. Don't miss the fabulous window displays and Galeries Lafayette and Printemps, and be enchanted by the glittering Christmas illuminations on the Champs-Elysees.
******
"Paradis à la Folie" - Paradis Latin
28 rue du Cardinal Lemoine, Paris 5e
Tel. 0033 (0)1 43 25 28 28
Metro : Cardinal Lemoine, line 10
Picture copyright holder: PARADIS LATIN
Back to articles