Posted on Friday, 10 March 2017 in Events
Show jumping and exceptional exhibitions this March in Paris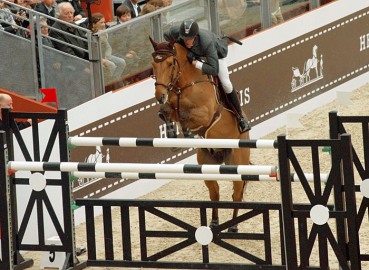 The month of March in Paris is distinguished by major events that gather together beauty, elegance and art. For example, the Saut Hermès brings some of the world's best show jumpers into competition, the 100th exhibition organised by the Quai Branly Museum highlights the genius of Picasso, and the Salon du Dessin is an essential show for lovers of drawing.
The elite of the show jumping world is found at the Saut Hermès
From March 17th to 19th, the magnificent Grand Palais transforms into an equestrian arena when it presents the 8th edition of the Saut Hermès. This internationally renowned competition presents the elite of show jumping riders and their beautiful steeds. This special event sponsored by the Hermès luxury brand will also feature a previously unseen equestrian show with a beautiful score, The Dream of Don Quixote. More than ever, sporting excellence meets ultimate elegance. Don't miss this dazzling and thrilling competition played out under the glass roof of the Grand Palais!
Primitive Picasso, an exploration of the talent of a brilliant artist
From March 28th to July 23rd the Quai Branly Museum celebrates its 100th exhibition and, to celebrate, has chosen to place the spotlight on Pablo Picasso's masterful work, exploring its relationship with the first arts. Magnificent, astonishing and revealing, this anniversary exhibition links Western art with the arts from Oceania, the Americas, Asia and Africa via the medium of the brilliant Spanish artist. In the course of this illuminating journey, you will discover the influence of non-Western arts on the work of Picasso, who was a fervent collector. The chronological approach follows the evolution of the artist's work and invites the visitor to engage in an anthropology of art in the 20th century through this exciting aesthetic dialogue.
A wealth of old or contemporary drawings to delight art enthusiasts
From March 22nd to 27th, the Salon du Dessin is held at the Palais Brogniart in Paris. This major art fair brings together collectors, experts, and curators from all over the world. Carefully selected French and international galleries present their most beautiful pieces, which include old, modern or contemporary drawings. Several events are scheduled, such as the presentation of a prize for contemporary drawing, as well as an examination of the major figure in the world of 19th century drawing that was Eugene Delacroix. For your Parisian getaway, don't leave anything to chance and ensure that you enjoy an ideal stay by booking your room at the Hotel Sophie Germain. Located in the central district of Denfert-Rochereau on the Left Bank, our three-star hotel offers a welcoming and convivial atmosphere, as well as comfortable and tastefully decorated rooms.
~oOo~
---
Hôtel Sophie Germain, charming hotel 3* Paris Left Bank
Back to articles