Posted on Monday, 10 September 2018 in Events
Parisian Autumn: Heritage Days and the White Night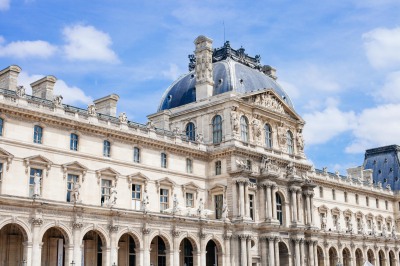 Summer is now drawing to a close and giving way to autumn, a season of great charm and beauty in Paris. This year, treat yourself to a wonderful break in the capital to enjoy Heritage Days and the White Night. Staying at the Hotel Sophie Germain, you can make the most of the Indian summer by catching the rhythm of cultural events that make the heart of the capital beat faster.
Discover the wonders and secrets of Paris with Heritage Days
For a whole weekend you can explore the hidden facets of the capital. The cultural institutions of Paris open their doors for Heritage Days on September 15th and 16th, 2018, offering fantastic discoveries and unforgettable events. For the occasion, the Palais de l'Elysée, official residence of the President of the French Republic, welcomes visitors wishing to take a tour of the corridors of power. The Louvre Museum opens all its wings, as well as the superb Jardin de l'Infante, usually closed to the public. Throughout the city, famous or lesser-known monuments and iconic historical and cultural sites offer extensive guided tours, educational workshops and exhibitions. Many châteaux throughout the Paris region are included in the programme, including the magnificent Palace of Versailles. Whether you are passionate about architecture, history and art, whether you like to explore mysterious places, the Heritage Days offer adventures that are not to be missed!
Paris under the stars on the White Night 2018
On the first Saturday in October, the capital pulses with activity from dusk to early morning on the occasion of the White Night arts festival. Renowned artists as well as young talents bring their creativity to all the districts of the capital, so you can wander through an amazing, magical and fun environment. On October 6th you'll have the chance to admire contemporary works of art, enjoy concerts and performances, and experience the nocturnal face of Paris. This is the opportunity to pound the pavement and travel the city all night amidst a friendly and welcoming atmosphere. This cultural event takes place in unusual locations. Look around and find dance performances on building facades, concerts under archways, and many other surprises.
Hotel Sophie Germain; welcome to your retreat
Ensure that you make the most of your Parisian break by opting for an elegant, central, and very comfortable hotel. The Hotel Sophie Germain welcomes you on the Left Bank, in the 14th arrondissement, in a pleasant and contemporary setting. A place of calm and serenity, our hotel offers you the ideal retreat, so you can relax after your hectic adventures in the capital. Enjoy its three stars amenities, its large rooms, and its high-end service.
Back to articles