Posted on Sunday, 5 April 2015 in Events
Make a note in your planner for Roland Garros 2015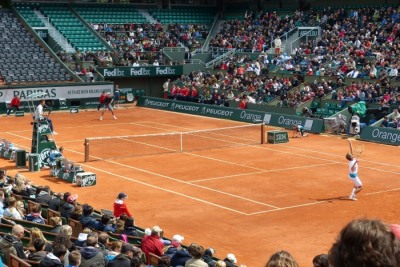 Whether or not you're an avid tennis fan you can't fail to be swept up in the fun and excitement as the world renowned Roland Garros tennis tournament comes to Paris from May 19th to June 7th 2015. Make a note in your planner of the dates and book your stay at Hotel Sophie Germain, where the elegant location and inviting atmosphere will enhance your trip.
The French Open, or the Roland Garros as it's more commonly known, is one of the tennis world's elite events. The tournament attracts all the top seeds who come to defend existing titles or aim for new records, and at Hotel Sophie Germain you'll enjoy easy access to the stadium by taxi or metro.
Roland Garros – a unique setting for a world class event
The stadium is named after French national hero and First World War aviator, Roland Garros and the French Open tennis tournament has been affectionately referred to by the same name for many decades. Its red clay courts are among the most recognisable tournament settings, and as well as the main three arenas the Roland Garros has a further 17 tennis courts, a separate press and media area, a restaurant and bar complex and its own museum. The Tenniseum is well worth visiting when you're at the Roland Garros, and the museum covers every aspect of the sport in a series of bi-lingual exhibits and features.
The French Open has been played since as far back as 1891, and in its current setting since 1928. Once the preserve of French players, the Roland Garros is now open to top tennis stars from all over the world and is split into several events and heats. As well as the popular men's and women's singles matches you can get tickets for the ladies and men's doubles and mixed doubles events, allowing you to see some of the sport's most exciting pairings.
Championship matches at Roland Garros 2015
For one month tennis fever will hit Paris as the world's leading players try to take the Roland Garros title. Spanish star Rafael Nadal has won the Roland Garros for 6 years in a row and has set several world records in the process. Can he keep his Roland Garros crown for an amazing 7th year and fend off stiff competition from players like Novak Djokovic, Roger Federer and Andy Murray? In the ladies singles Serena Williams will be hoping to take the title from Maria Sharapova, and you could be among the lucky spectators at the Roland Garros 2015.
Spectators come from all over the city to watch this prestigious tournament, either in the stadium or on the specially erected big screens. Join in the fun and soak up the atmosphere with the Parisian crowd by treating yourself to a break at Hotel Sophie Germain for the Roland Garros 2015.
******
French Open tennis tournament Rolland Garros :
01 47 43 51 11
Subway : Line 9 : Mairie de Montreuil - Pont de Sèvres (stations Michel-Ange Auteuil ou Michel-Ange Molitor)
Line 10 : Gare d'Austerlitz - Boulogne (stations Porte d'Auteuil ou Boulogne Jean-Jaurès)
Picture Roland GARROS 2013 Paris - Gasquet v. Berdych copyright holder: Roman Boed, on Flickr
---
Hotel Sophie Germain, a charming 3* hotel on the left bank of Paris
Back to articles