Posted on Wednesday, 13 December 2017 in Events
Treat yourself to the New Year celebrations in Paris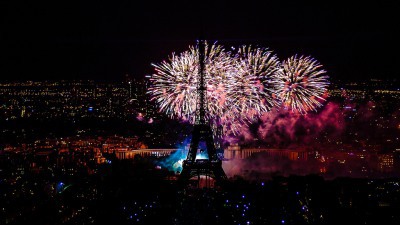 For a fun-filled goodbye to 2017 and a serene welcome to 2018, what could be better than a gourmet escapade in Paris, surrounded by those you love? The Hotel Sophie Germain recommends some exceptional restaurants where you can celebrate the New Year. And don't forget to watch the Paris Grand Parade on January 1st!
Gourmet restaurants for the New Year
Located in the lively and charming district of Denfert-Rochereau, the Hotel Sophie Germain is surrounded by excellent restaurants where you can thoroughly enjoy celebrating the end of the old year and the arrival of the new. The restaurant Augustin, on the Rue Daguerre, is a chic and contemporary bistro serving a refined and original cuisine based on the freshest of ingredients. For a Middle Eastern touch, visit Assanabel, a Lebanese restaurant in the commercial district of Alésia. The elegant dining area, all woodwork and earth tones, will be your starting point for a culinary journey of a thousand spices. Or perhaps you might prefer the rich flavours of La Maison Courtine's traditional French cuisine. Finally, if you want to try a legendary Art Deco-style brasserie that was once a gathering place of artists and writers, we suggest La Coupole.
Don't miss the Grand Parade on January 1st!
The most beautiful avenue in the world will celebrate the New Year with a Grand Parade! Come along with your family, friends or loved one to the Avenue des Champs-Élysées on January 1st and enjoy the marching bands, magnificent floats, cheerful musicians, colourful costumes and delightful dancing. The procession kicks off at 14:00, but get there early to be sure of a good vantage point. There will be plenty of entertainment and activities taking place alongside the parade. A wonderful atmosphere is guaranteed. It's an unforgettable way to greet the New Year!
Book your room at the Hotel Sophie Germain
The Hotel Sophie Germain will be your cosy retreat during your visit to Paris. Located on the Left Bank, in an area famous for its market, its talented artisans and its plethora of artists, our hotel is central and well served by various public transport options, including the RER, Metro, and bus and tram services. Our welcoming three-star establishment offers services that combine comfort and conviviality, so that you'll feel immediately at home. Our rooms are spacious, bright and tastefully decorated. Well-appointed and peaceful, they are your guarantee of a restful sleep between adventures in the capital. Near the hotel reception we have a library and lounge area where you can read quietly or plan your day amidst tranquil surroundings. Finally, every morning we provide a fresh and tasty breakfast, so you can recharge your batteries in readiness for another exciting day of exploring Paris.
Back to articles