Posted on Sunday, 10 April 2016 in Events
Roland Garros: One of the biggest sporting events in Paris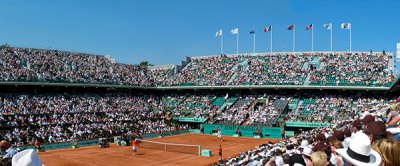 Who said that discovering Paris should be all about culture or shopping? If you're passionate about sport, and tennis in particular, then you'll certainly need no further encouragement to spend your spring break in Paris during the time of the fabulous French Open tennis championship at Roland-Garros, which every year provides a venue for the cream of world tennis. If you want to witness the very best in terms of sporting spectacle and soak up the atmosphere of one of the world's premiere sporting events, you know where to be in May-June!
Paris: capital of sport
Paris attracts huge numbers of visitors each year, not only for its legendary monuments such as the Eiffel Tower or Notre Dame, but also because the city hosts some of the biggest international sporting competitions. But whether you come to Paris to satisfy your thirst for culture or your love of sport, the Hotel Sophie Germain has more than enough advantages to grab your attention. Located in the lively 14th arrondissement, near the Latin Quarter and the Place Denfert-Rochereau, the Hotel Sophie Germain will be a major factor in making your stay a highly pleasurable and satisfying one. With our friendly and attentive team making you feel so welcome amidst chic and modern surroundings, you'll certainly not regret choosing this hotel for your Paris trip. Once comfortably settled in, you can prepare to be a privileged spectator at the most famous tennis tournament in the world: Roland Garros. Tourism and sport have never made a more perfect team.
Roland Garros: a legendary sporting occasion
This year, the French Open tennis championship will take place from May 16th to June 5th at the Stade Roland-Garros in Paris. As always, excitement will be high and the atmosphere electric for this, the number one clay court tennis championship in the world and the second of the four annual Grand Slam tournaments. The Stade Roland-Garros, which has hosted this great sporting event since 1928, is easily and quickly accessible from your Hotel Sophie Germain, thanks to a superb public transport infrastructure. If you want to see the world's best tennis players compete for the honour of winning what is considered to be the most physically demanding tennis tournament of them all, this is your opportunity. Who will unseat the reigning champions Stanislas Wawrinka and Serena Williams, if anyone can? Will Rafael Nadal claim a tenth triumph here? Can a French player seize the trophy? What is certain is that the slow playing surface of clay allows for long and dramatic rallies, requiring the players to dig deep. To witness this clash of sporting titans, you would be well advised to book your tickets now. Then you can combine the thrills of this Grand Slam extravaganza with discovering the many other attractions of the world's loveliest city. Whether you are a lover of tennis, or simply want to find out what all the excitement is about, the French Open is not to be missed.
******
Learn more:
French Open
French Tennis Federation
Tennis Grand Slam
---
Hotel Sophie Germain, a charming 3* hotel on the left bank of Paris
Back to articles