Posted on Thursday, 5 September 2019 in Exhibitions and Museums
The Paris Liberation Museum in Denfert Rochereau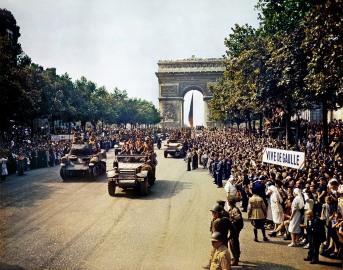 The Paris Liberation Museum in Denfert Rochereau is the new must-see place for history buffs staying at the Hotel Sophie Germain. The museum opened on August 27th, 2019, inviting the public to know all the fascinating facts about the liberation of Paris from Nazi occupation in the later stages of the Second World War.
The Paris Liberation Museum in Denfert Rochereau; the ideal setting
First came the Musée du Général Leclerc de Hauteclocque et de la Libération de Paris - Musée Jean Moulin, which opened in 1994 above the Gare Montparnasse. However, this proved unsuitable, so the idea came to move the museum to a more appropriate location to celebrate the 75th anniversary of the Liberation of Paris. The new museum was inaugurated on August 27th, 2019, just 2 days after the date originally planned for its opening.
This new cultural and historic setting hides a shelter 20 metres underground. Visitors descend 100 steps down a concrete staircase to a basement under the Place Denfert-Rochereau. Once a passive defence shelter, this secret site later served as a command post for Colonel Henri Rol-Tanguy, leader of the French Forces of the Interior during the city-wide insurrection that preceded the liberation. This secret space played an important role in history and there could not be a more apt location for the museum.
History brought to life...
The reopening of the Paris Liberation Museum offers an opportunity to step back in time and visit a crucial moment in the history of the City of Light. This building located in Denfert Rochereau is the very one from which General Leclerc liberated Paris and it has undergone a remarkable restoration. It now brings together the past and the present to simplify our understanding of what the museum houses.
The scenography has been updated and you can enjoy the permanent collections in chronological order. The uprising and conflict are told through photos and several thousand original documents, as well as archive videos that include testimonials. During the visit, you will learn about General Leclerc, who commanded the forces that fought their way into Paris to support the insurrection, and Jean Moulin, hero of the resistance; two men to whom France owes a great deal. Some of the personal belongings of Moulin and Leclerc have been left in the condition in which they were found, including a suitcase that no one has ever opened. Such subtle details add an aura of mystery to the museum and pique the curiosity of visitors.
The new Paris Liberation Museum is easy to access from the Hotel Sophie Germain. You can even walk there. The hotel team will be happy to show you the best routes and advise you about other places of interest around the museum. You'll have the opportunity to create a personalised tour that will take you to the heart of the Liberation, passing excellent restaurants and sites of cultural interest on the way.
******
More information:
- Paris Liberation Museum of Paris
---
Hotel Sophie Germain, a 3-star hotel in the heart of Paris 15th
Back to articles