Posted on Friday, 10 May 2019 in Visit Paris
Visit and explore the capital with the Paris Museum Pass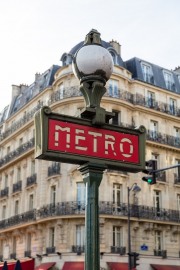 Paris is full of museums and other great attractions but visiting them can place a strain on your holiday budget. If you want to do it all for less, the Paris Museum Pass is for you! The more places you visit, the more you save, and you get to jump queues, too. In addition, our team will be happy to explain the various Parisian public transport options. Read on for more information.
Paris Museum Pass; the more places you visit, the more you save
The Paris Museum Pass offers the ideal solution for culture buffs wishing to discover the treasures of the capital without breaking the bank. This simple, practical and ingenious system gives you unlimited access, free and without the need to queue, to more than fifty museums and monuments of Paris and the Ile-de-France region. Feel free to come back as many times as you like to the Louvre Museum or the Palace of Versailles! You have three different packages to choose from; a 2-day pass for €48, a 4-day pass for €62 and a 6-day pass for €74.
You also get to avoid the long queues! Make the most of the time you have in the capital by not wasting your holiday waiting in line. (The Paris Museum Pass does not exempt you from regulated access and possible security checks, however.)
Simply activate the Pass on the date of your choice by specifying the first day of use and your first and last names. To check the list of places accepting the Pass, go to https://www.parisinfo.com/visiter-a-paris/paris-pass/paris-museum-pass.
Getting around Paris; choose the mode of transport that suits you
Fast and well planned, with a network of 16 lines serving 302 stations, the Metro is the ideal means of transport for getting around Paris. The trains run between 05:30 and 01:00 (02:00 on weekends) with a departure taking place at one- to four-minute intervals throughout the day.
You can also take advantage of the city's extensive bus network. This offers services that will take you deep into the suburbs of Paris, well off the beaten track. Some, such as the Noctilian, specialise in night-time transport.
For exploring Paris while staying in shape, there's nothing better than cycling! Self-service rentals under the Vélib system provide options for hiring a bicycle for a day or longer. There are some 8,693 rental bicycles and 1,263 stations throughout Paris.
Or you might want to try the RER rapid transit railway system. This is arranged into 5 lines designated A to E. The updated Tramway also has a dozen lines at your service for transport on the periphery of Paris.
To travel conveniently and cheaply, choose the Ticket t+, which allows you to travel on all Metro lines, bus, RER Zone 1 and tram (€1.90 per ticket, €14.50 for a book of 10 tickets).
******
More information:
- Paris Museum Pass
- Velib
- Transilien
- RATP
---
Hotel Sophie Germain, a 3-star hotel in the heart of Paris 15th
Back to articles