Posted on Friday, 17 October 2014 in Hotel
Welcome to Paris, welcome to our new official blog!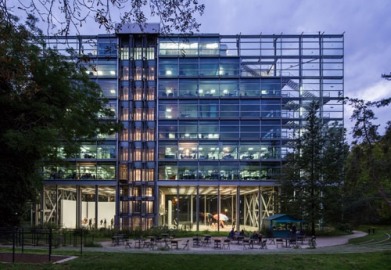 We would like to take this opportunity to welcome you to the new official website and blog of Hotel Sophie Germain. As well as all the news and latest offers from the hotel, we will explore some of the exciting events and attractions that make Paris such a fascinating city. Hotel Sophie Germain enjoys an enviable location in the 14th arrondissement, close to the elegant Montparnasse district and many of the most intriguing aspects of the city, including one of our favourites - the Cartier Foundation.
Visit the iconic Cartier Foundation during your stay at Hotel Sophie Germain
The Cartier Foundation is just a 15 minute walk from the hotel and will commemorate its 30th anniversary with two exciting new exhibitions – 'Musings on a Glass Box' from October 25th 2014 to February 22nd 2015, and 'Les Habitants', also from October 25th.
The Cartier Foundation for Contemporary Art is ideally situated close to Hotel Sophie Germain, and is located in a magnificent building designed by Pritzker Prize winning architect Jean Nouvel. The exterior is defined by clean lines and a unique wall garden created by Patrick Blanc, and the 26 foot high glass encased ground floor is outstanding.
Musings on a Glass Box – a thrilling installation in an iconic space
The glass walls of the Cartier Foundation provide the raw material for an exhibition entitled Musings on a Glass Box that has been created by internationally acclaimed design maestros Diller Scofidio + Renfro to mark the foundation's 30th year. The installation will encompass the entire ground floor space and an exciting surprise reaction will be triggered by a disturbance in the ceiling.
Certain to be memorable and thoroughly unique, this complex exhibit will also feature a soundtrack by US composer David Lang and sound designer Jody Elff. Book your room at Hotel Sophie Germain in advance so that you don't miss this remarkable foray into one's perception of space and sound.
Les Inhabitants
A unique idea by Guillermos Kuitca, Les Inhabitants will also celebrate 30 years of the Cartier Foundation. Designed to illustrate the unique links between artists, the installation of a living room is a recreation of a painting by David Lynch, and is inspired by Lynch's 2007 installation at the foundation, The Air is on Fire.
Les Inhabitants will take up the whole of the lower level of the Cartier Foundation and you're certain to enjoy making the connections between art, film and music that Kuitca aims to show. Featuring a host of acclaimed contributors and references including David Lynch, Francis Bacon, Patti Smith, Tarsila Do Amaral, Vija Celmins, Guillermo Kuitca and Artavazd Pelechian, the exhibit promises to be one of the highlights of the season.
Exhibitions : October 25 - February 22, 2015
>> Musings on a Glass Box : Diller Scofidio + Renfro, en collaboration avec David Lang et Jody Elff
>> Les Habitants : Guillermo Kuitca, Vija Celmins, Guillermo Kuitca, David Lynch, Artavazd Pelechian, Patti Smith
Fondation Cartier pour l'Art Contemporain - 261, boulevard Raspail, Paris 14e
- Tel. 0033 (0)1 42 18 56 50
- Metro : Raspail or Denfert-Rochereau, lines 4 and 6 / RER B : Denfert-Rochereau
Fondation Cartier pour l'art contemporain, Paris, 2013 © Jean Nouvel / Adagp, Paris - Photo © Luc Boegly
~oOo~
Hotel Sophie Germain, a charming 3* hotel on the left bank of Paris
Back to articles